PLEASE SEND A PICTURE, DRAWING OR DESCRIPTION OF YOUR STUDENTS PARTICIPATING IN ANY OF THE BELOW MENTIONED ACTIVITIES OR OTHER WAYS TO MOVE THEIR BODY AT kanderson@arrsd.org. I WOULD LOVE TO SEE HOW YOUR STUDENTS ARE BEING ACTIVE DURING THIS TIME.
OR
fill out this google form below
https://docs.google.com/forms/d/1zUO-hcRyM-noM3v_5wPAUZIW20nE6NzCAz9IQX21RFA/edit?usp=forms_home&ths=true
Daily Fitness Calendar
Wednesday June 10, 2020
Warm Up
Sock Hop: Use your feet to collect the socks and place them in the bucket or box.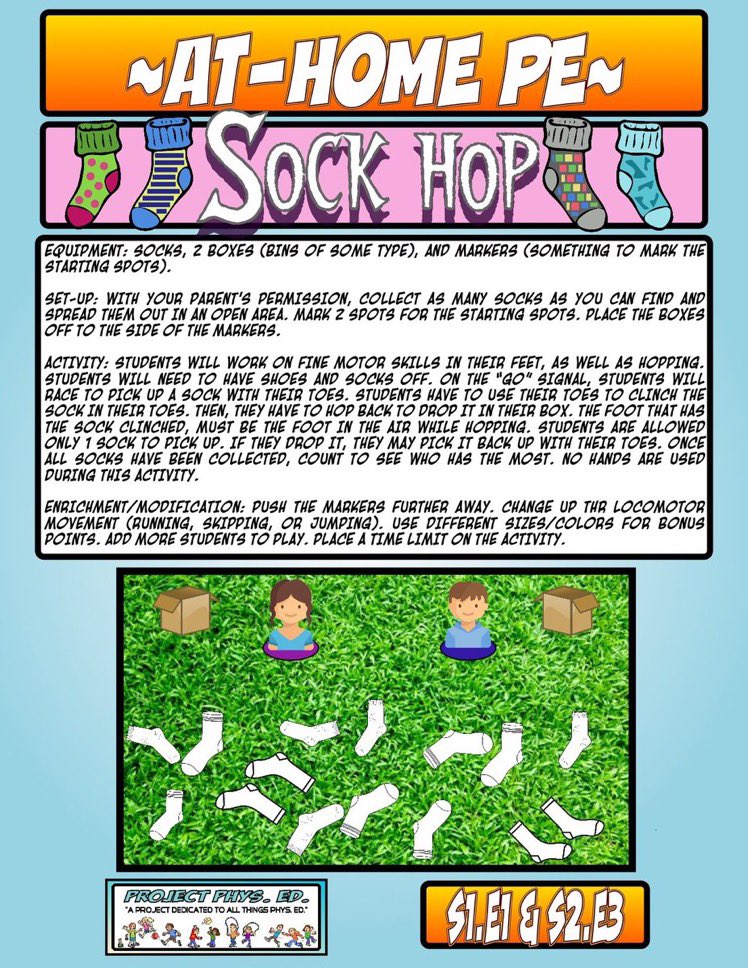 Please Print Sock Hop below
Fitness
Plinko: Roll the ball down the stairs to score points. Add exercises in between or at the bottom. If the ball lands on the exercise perform it.
Please Print Plinko below
Focus
Ricochet: Throw and bounce the ball off the wall to collect the buckets. Play yourself for time or against a partner to see who can collect the most buckets.
Please Print Ricochet below
Monday June 8, 2020
Warm Up
Ducks Fly Together: Work with someone at your house to play this movement warm up game.
Please Print Ducks Fly Together below
Fitness
Health Moves Minds: Choose one of the fitness activities for this week. Choose two, three, try it for the rest of June.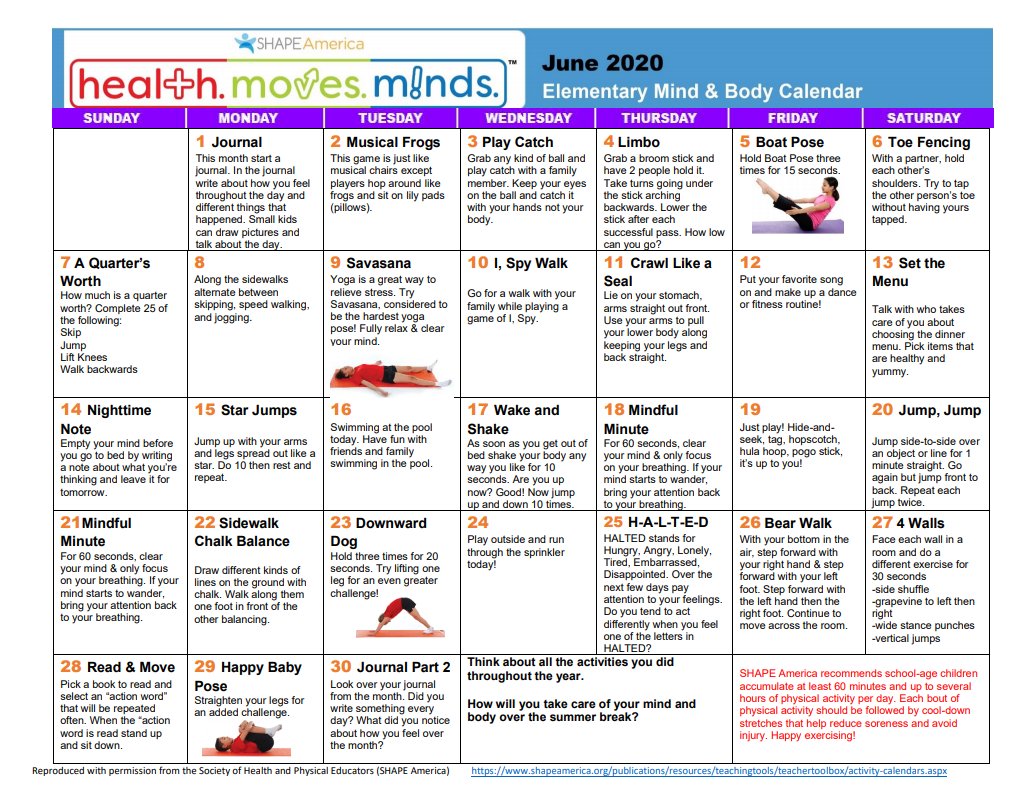 Please Print Health Moves Minds below
Focus
Kicking Corners: Get something to kick (ball, sock ball) and items to knock down and play this kicking game. Play by yourself for points or with someone at your house.
Please Print Kicking Corners below
Wednesday June 3, 2020
Warm Up
Recipe for an Active Day: Choose at least one way to be active from the list below. Want to do more than one great. Try this for the whole week awesome.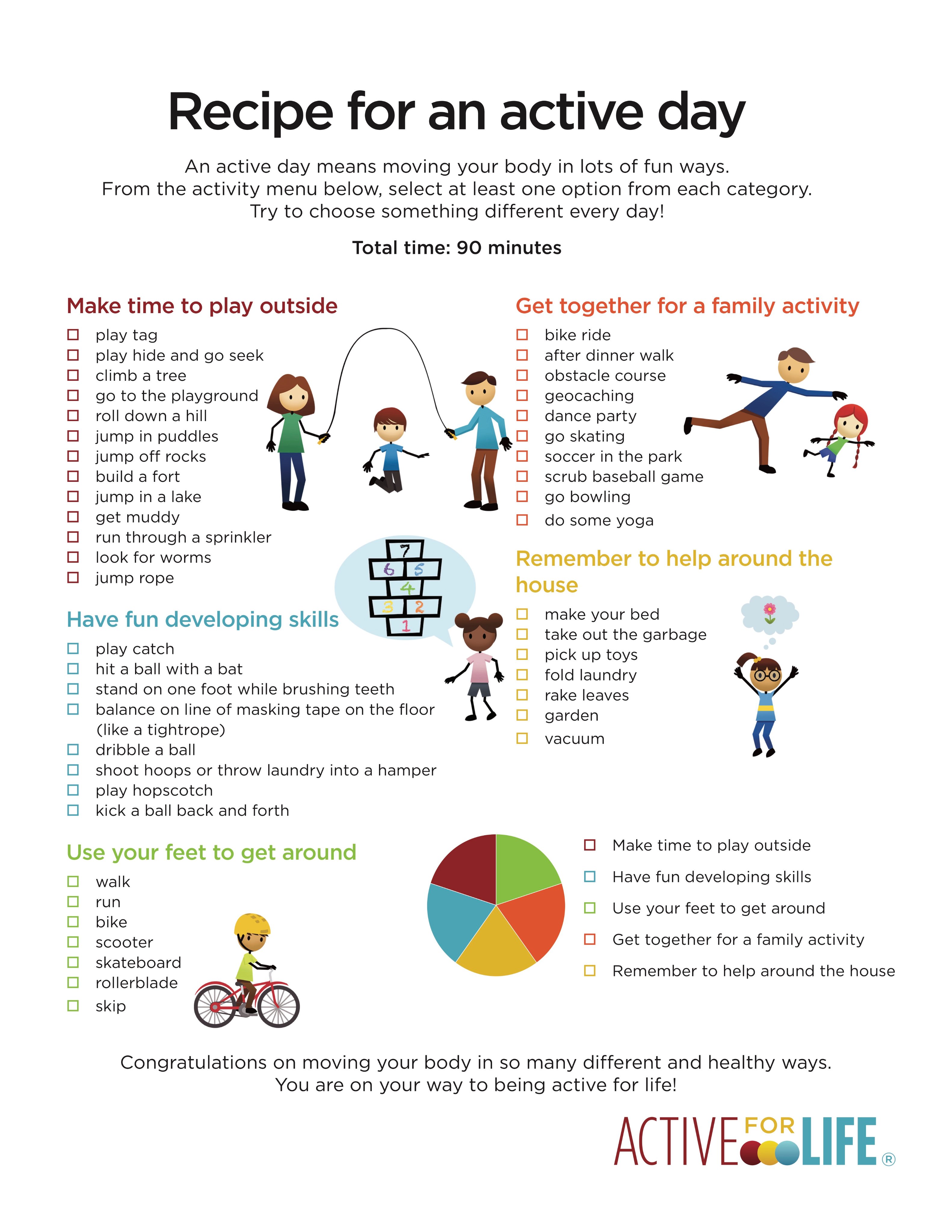 Please Print Recipe for an Active Day below
Fitness
Taco Chef Workout: Build you Taco by selecting the ingredients. Perform each exercise that goes along with what you want in your taco.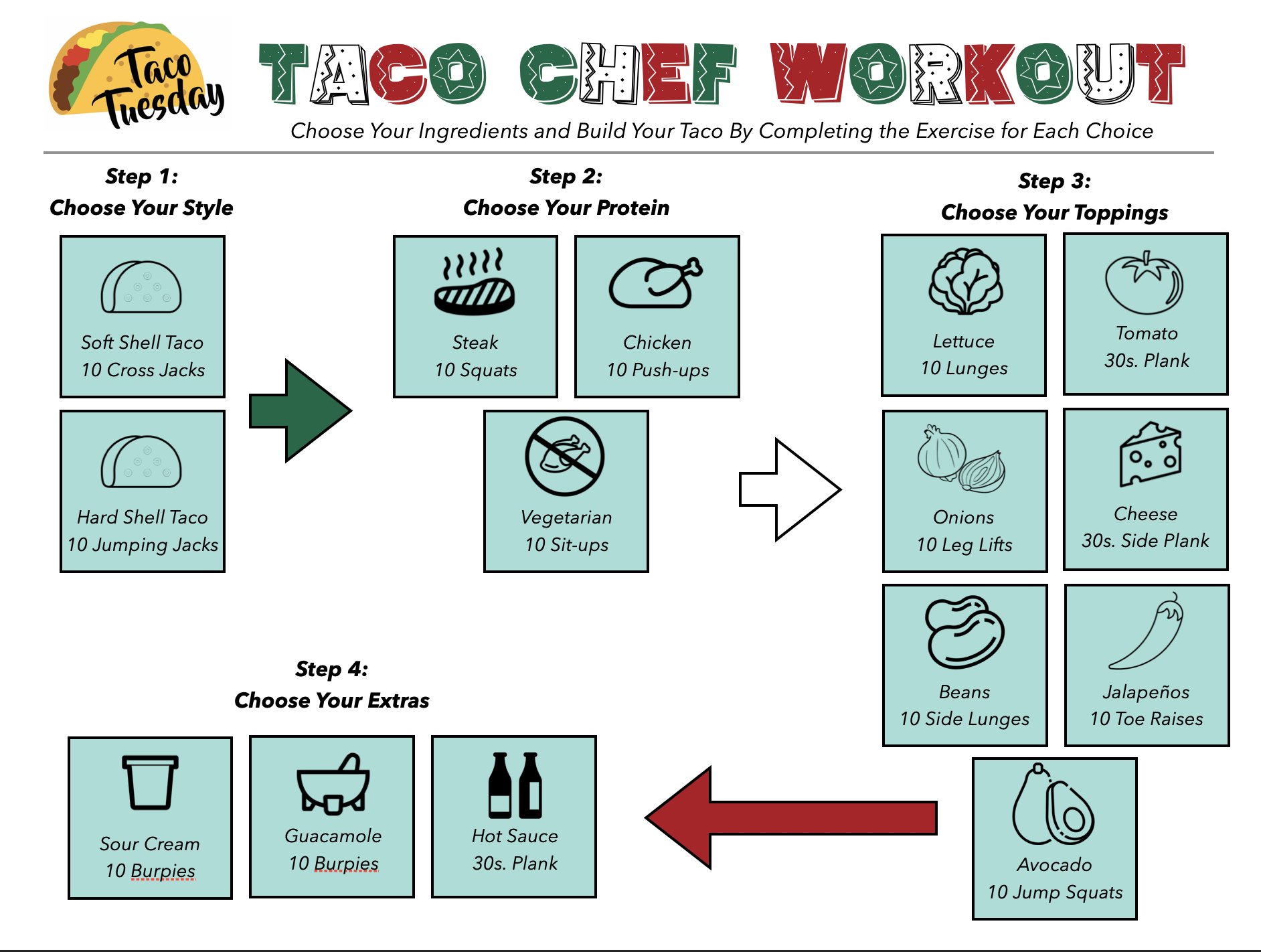 Please Print Taco Chef Workout below
Focus
Plastic Punters: Kick the bag to bring it back to your box. See how fast you can get all the bags or how many you can do in a set time.
Please Print Plastic Punters below
Monday June 1, 2020
Warm Up
Hop, Skip, Jump for Fun: See how many days this week you can play the game by selecting 5-7 cards and completing the exercises on the cards.
Please Print Out Hop Skip Jump Fitness and the Cards below
Fitness
PE Fitness Calendar: Choose one, two or all five challenges for this week to complete by yourself or with a family member.
Please Print Fitness Calendar below
Focus
Special Delivery: Use any container to keep track of your points. Play by yourself or a family member.
Please Print Special Delivery below
Monday May 27 2020
Warm Up
Pick Up Sticks: Work against a timer or with a partner to collect as many sticks without moving the others.
Please Print Pick Up Sticks below
Fitness
The Maze: Race against a partner or timer to complete the course as fast as you can.
Please Print The Maze below
Focus
Can Curling: Roll your object and try and get it on the bull's eye. Work with a partner and have the partner try and trap the can as close to the bull's eye as they can.
Please Print Can Curling Below
Wednesday May 20, 2020
Warm Up
Down Through the Chimney: Make your way through the boxes without falling or missing. Race against yourself or a family member. No boxes, use tape, chalk, cones, mats, paper.
Please Print Down Through the Chimney pages
Fitness
The Laundry Long Jump: Use clothes, pillows, or anything soft to make a sand pit to jump in. Use the laundry basket to jump over or make a line. See how far you can jump or compete against someone in your home.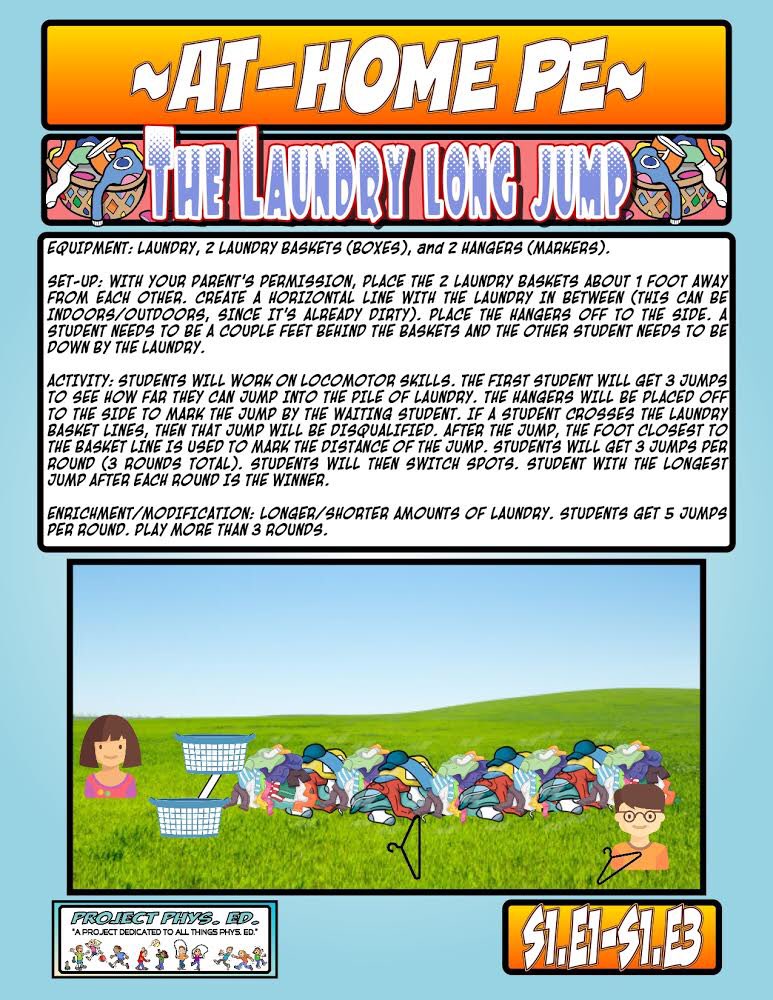 Please Print Out The Laundry Long Jump sheet below
Focus
Socker-er Skeeball: Gather three different sized containers (big, medium and small in size). Find a kicking spot. Kick the sock ball and try and get it into one of the three containers. Play for your highest score or against a teammate.
Please Print page 26 for Sock-er Skeeball below
Mindful Minute
Green Lantern Growth Mindset: Read the speech bubbles by green lantern. Take a minute to think about 2 of the speech bubbles and how you can use them in your life.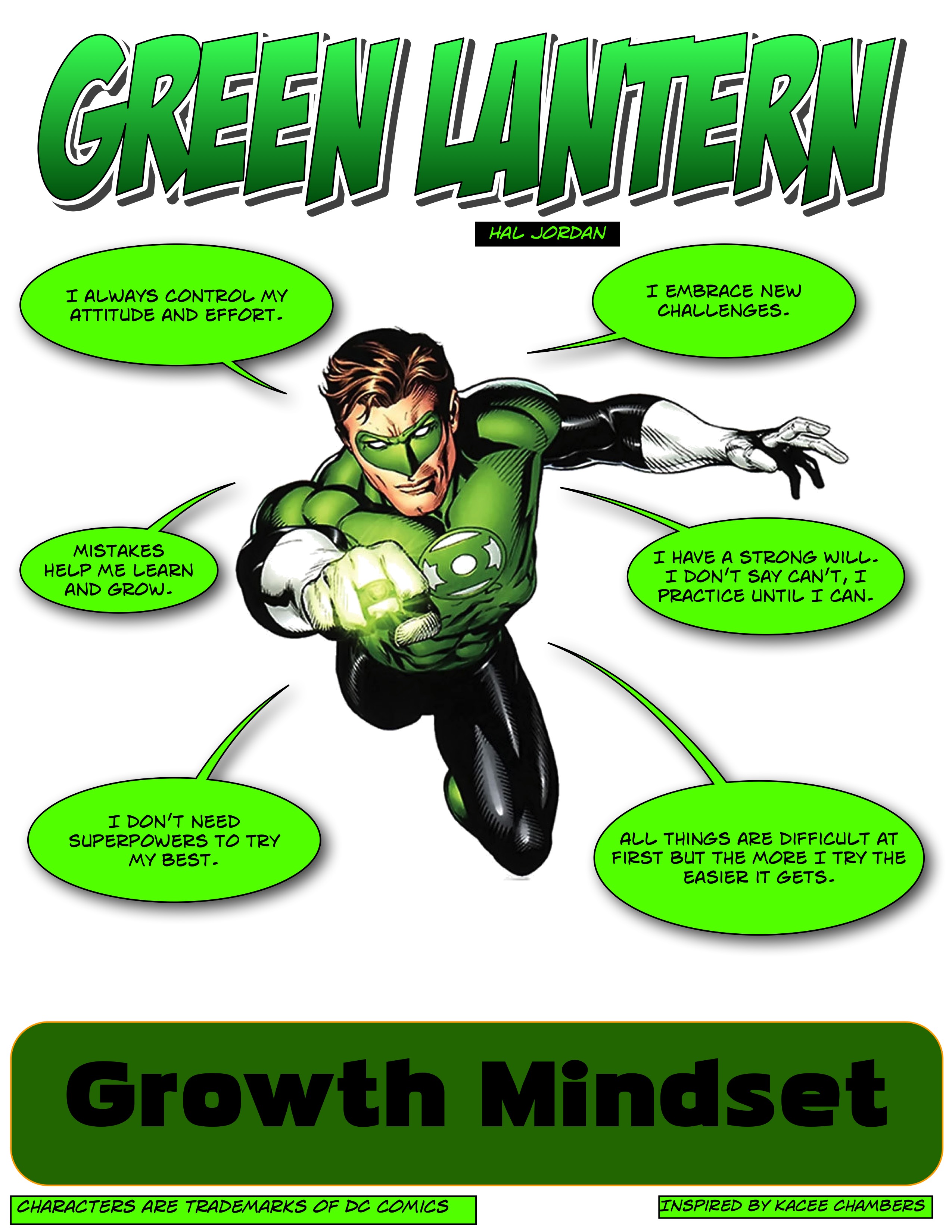 Please Print Growth Mindset page below
Monday May 18, 2020
Warm Up
Create Your Own Boot Camp Adventure: Follow the arrows and exercises to complete your own boot camp adventure. Choose your exercises and choose when you stop. Your adventure should include at least 6 different exercises, but can include as many as your wish.
Please Print Create Your Own Boot Camp Adventure below
Fitness
Couch Potato Challenge: Try these challenges while watching, during a commercial or a video game pause.
Please Print Couch Potato Challenge below
Focus
The Recycled Tower: Build your tallest tower with as many recycled or at home objects as possible. Accomplish this feat by yourself or make it a family affair. You have three tries so take your time, take risks, and above all have fun.
Please Print the Recycled Tower below
Mindful Minute
Weekly Well Being: Choose one of the social, emotional or psychological weekly challenges.
Wednesdsay May 13, 2020
Warm Up
Pathway Scavenger Hunt: Follow the row across to discover your movement, pathway and what color item you are finding. Repeat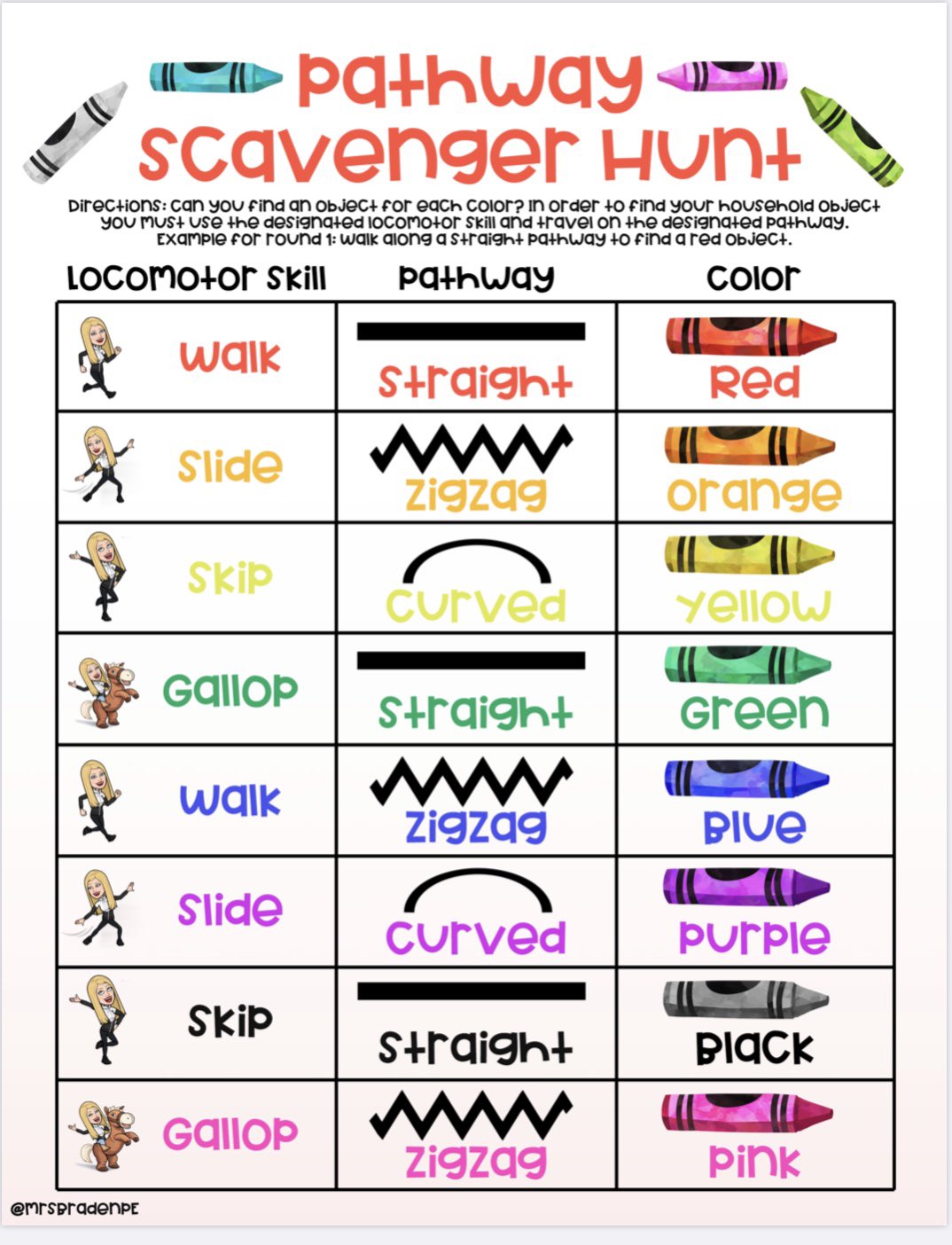 Please Print out Scavenger Hunt Sheet below
Fitness
Come and get It: Run down and get and item balance it on your head and run it back. Play for fastest or most items.
Please Print Come and Get It sheet below
Focus
Tunnels: Kick your ball through the tunnel course going from start to finish kicking the sock ball through all the tunnels.
Please Print Tunnels sheet below
Mindful Minute
Sun Safety: Take a minute to review some tips to stay healthy and safe in the sun.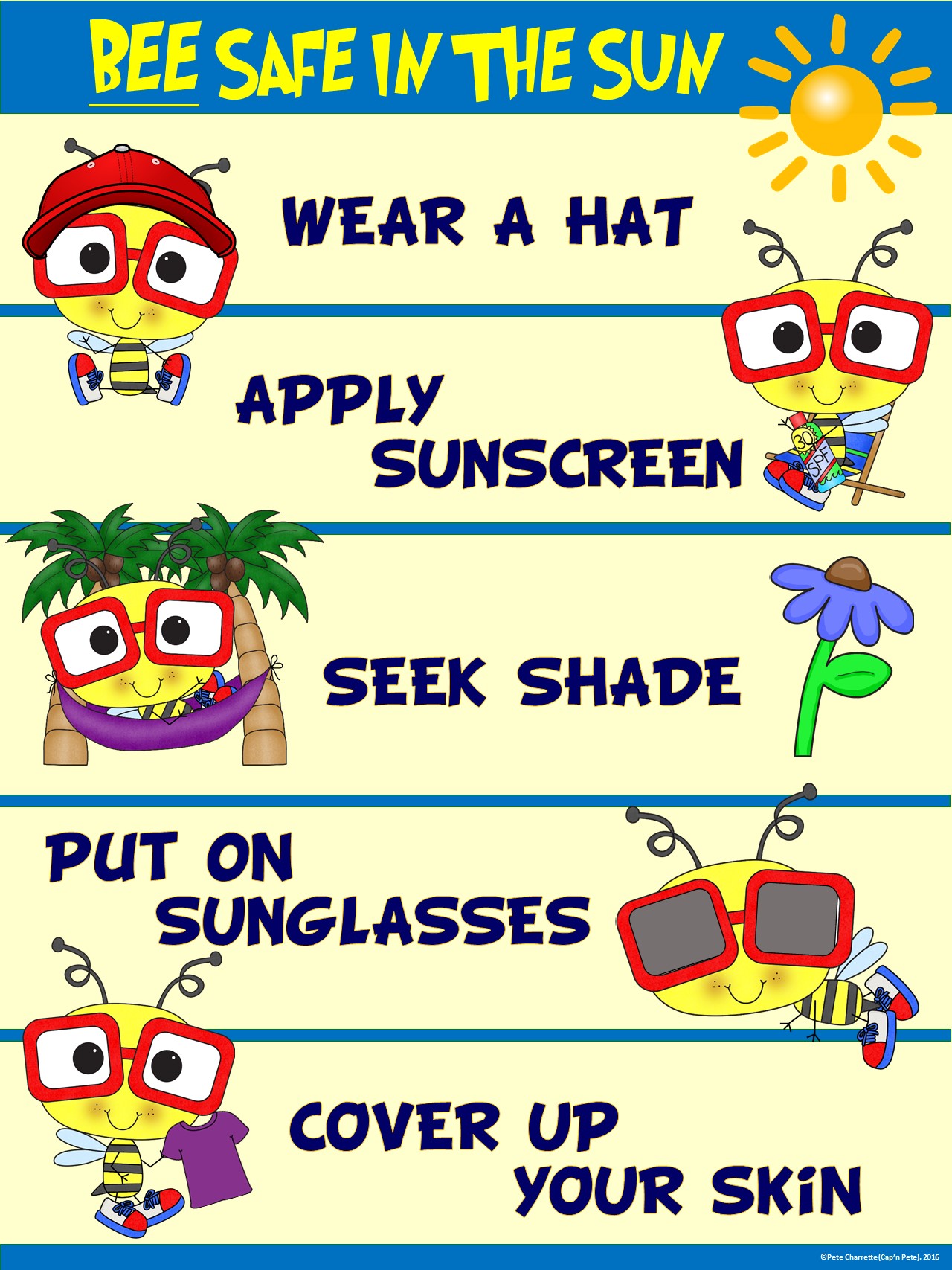 Please Print Sun Safety sheet below
Monday May 11, 2020
Warm Up
If the Shoe Fits: Score as many points flipping your shoe as you can.
Please Print Page 5 of Packet Below
Fitness
Penguin Race: Place the egg between your knees and race against a friend or the timer to get as many eggs in the bucket the fastest.
Please Print Page 3 of Pack Below
Focus
The Hamper Throw: Spin around two times (don't get dizzy) and let your hamper fly. Play against a partner to see who can throw the farthest or play against yourself to score a personal best.
Pleas Print The Hamper Throw Page Below
Wednesday May 6, 2020
Warm Up
Milk Jug Relay: Scroll down or print out page 5 for directions. Carry a milk jug (s) from the start to finish as many times as you can in a minute. Play against a family member or try multiple times to beat your own score.
Please Print Page 5 of the Packet Below
Fitness
Paper Airplane Corn Hole: Download or print out page one for directions. Build a Plane and See how many times you can get it in the bucket/basket in a minute.
Please Print Page 1 of the Packet Below
Focus
Water Bottle Trap: Scroll to page 2 or print out the directions. Roll the ball/sock to trap the ball and bottle under the trap. Tally your points for the entire minute.
Please Print Page 2 of the Packet Below
Mindful Minute
Monday May 4, 2020
Warm Up
Yoga Fortune Teller: What will be your Yoga? Ask a friend to pick a color. Open the teller for each letter for that color. Have them pick a number and open the teller that many times. Pick a number again and lift the flap to see your 30 second Yoga Pose
Please Print Both Pages of Fortune Teller Yoga Below
Fitness
Mountain Challenge: Start at the bottom and work your way to the top of the mountain. When done create your own Mountain Challenge by filling in the blanks on the right.
Please Print Mountain Challenge Below
Focus
Rock Climbers: Traverse the Rock Wall to earn a point. Touch the Ground and start again. Compete against someone else or play against yourself for time.
Please Print Rock Climbers Below
Mindful Minute
Color By Fitness: Choose a Color Page. Color the section and complete the exercise before moving onto the next color.
Please Print Pages 1-3 for Color By Fitness Below
Wednesday April 29, 2020
Warm Up
At Home Scavenger Hunt: See how many of the items below you can find in your house. With your parents permission try and move in a different way each time you search for a new item (walk, run, skip, gallop, hop, jump, slide, crab walk….)
Please Print At Home Scavenger Hunt Below
Fitness
Flip it Fitness: Follow Sheet to complete your fitness exercise. No coins, then flip anything that has two sides (a card, paper plate, sneaker).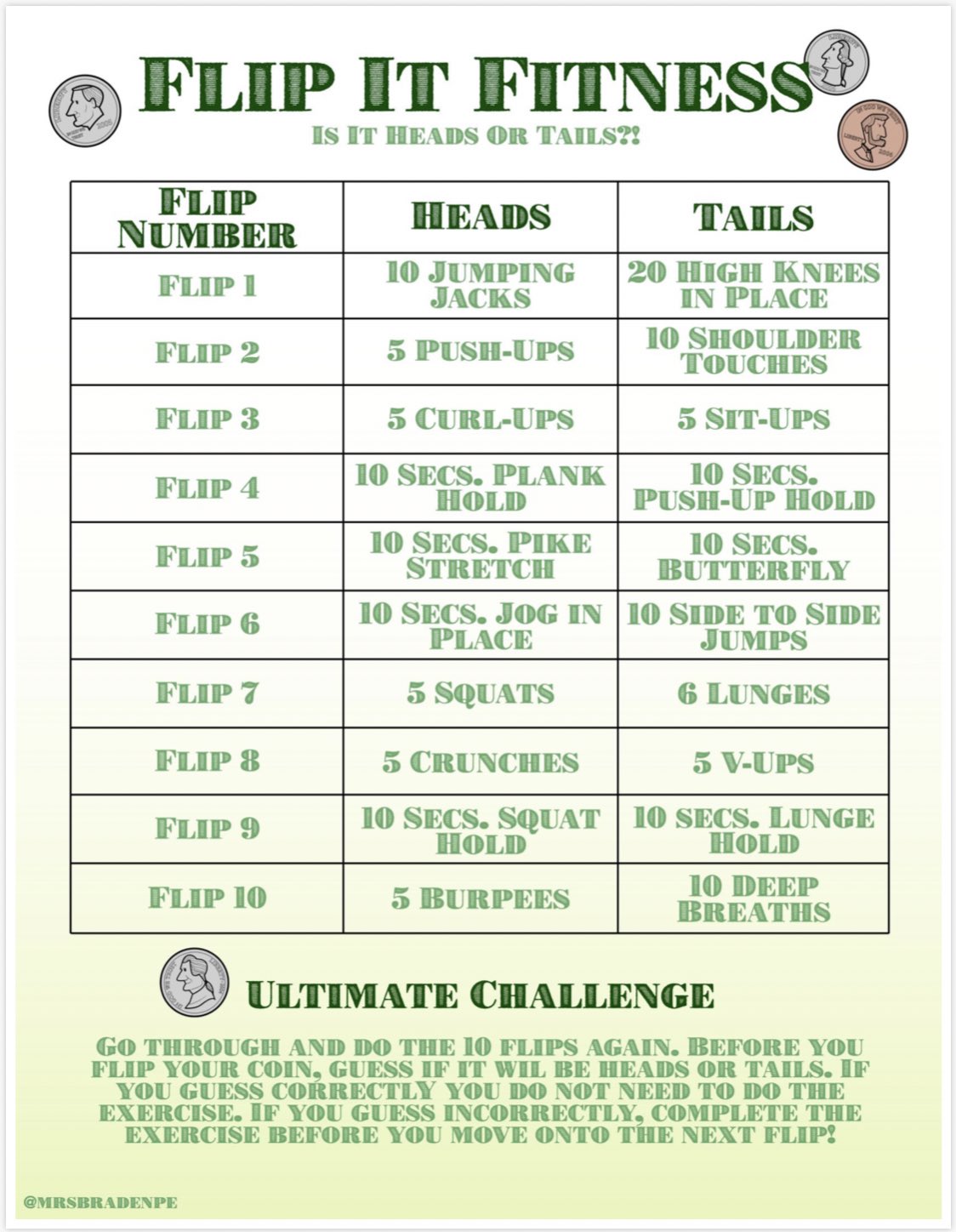 Please Print Flip It Fitness Below
Focus
Around the House: Use a Long Handled Implement like a broom, rake, bat or stick and traverse your obstacle course either in your house or outside. Race against a housemate or time yourself to see how fast you can do it.
Please Print Out Copy of Around the House
Mindful Minute
Take Care of Yourself: Read the following ways to take care of yourself and choose one to add to your schedule for tomorrow.
Please Print Out Copy of Take Care of Yourself
Monday April 27, 2020
Warm Up
Book It: Read or Print out Directions below. Balance as many books on your head as you can while moving between two end lines. Compete with yourself for amount of books or speed. Compete against someone in your family or google meet against a friend. No books find other objects to balance; stuffed animals, paper plates, Tupperware lids. When your done read the books you used.
Please Print Out Directions Page Below.
Fitness
Shooting Spoons: Read or Print our directions below. Create two targets. Run out to collect the spoons, continue to slick the spoon until it gets to your target then run out an get another spoon. Play until run out or 10 minutes is up. Race against yourself to see how fast you can get all the spoons in your target or race against someone else. No spoons use; pennies, Popsicle sticks, forks, or anything else you can flick.
Please Print Out Directions Page Below.
Focus
Please Print Out Directions Below
Sock Ball Batting
Make a sock ball using two or three pairs of large socks rolled inside each other.
Find a cardboard tube, roll a newspaper with tape, or find a plastic vacuum cleaner pipe to use as a baseball bat.
Choose a play space in your home that's free of breakable objects, or remove the breakable objects before playing. Play space can be a bedroom, living room, or any room where there's enough space for a batter to swing the bat and the pitcher to throw the ball to the batter.
Two children (or child and parent) can take turns pitching and batting the sock ball.
If you have more than two players, the extra players can take turns as "fielders" (behind the pitcher) and try to catch the ball after it has been hit.
Challenge: Hitter races to an object before the fielder can get the sock ball and run the the same object.
Trouble hitting the ball add more socks to make it bigger or put ball on something to hit it off of.
Mindful Minute
How Do You Feel Today: Take a minute to see how you feel today. No feeling is right or wrong. More than one feeling, that is OK. Draw a picture of your feeling or send me a picture at kanderson@arrsd.org of how you feel.
Please Print Out Chart Below
Monday April 13, 2020
Warm Up
Charades: Scroll Down and pick a charades game to play with a stuffed animal, pet or family member. Take turns acting out and guessing the different things.
OR
Shadow Sports: Scroll down and pick a shadow sport to play. Read the directions and complete the challenges. No equipment, not a big deal cause you don't need it in shadow sports.
Fitness
Invisible Dumbbell Stations: Scroll through or print out the fitness stations. Follow along to complete the exercises. Use cans, bottles, toilet paper rolls or any other home object to add more weight if desired.
Focus
Fun with Scoops: Use any container to catch and throw an object to yourself or a partner. Use a milk jug, coffee can, bucket, basket, etc. for catching. Throw with the object or by hand. Count for catches, accurate throws or just play. Build your own game adding equipment or keeping it simple.
Wednesday April 15, 2020
Warm Up
Double Trouble Solitaire: Read Directions below to complete the game and earn the exercises. No playing cards draw the numbers and or card suits on post it notes or small pieces of paper.
Please Print both sheets (directions and exercises)
Fitness
MyPlate Fitness: Scroll Down to page 3. Build a plate of exercises. Choose one exercise from each food group to put on your plate. Complete one routine for each meal or choose your favorite.
Please Print Page 3
Focus
Juggling Scarf: Follow along with the scarf activities. No scarf use a tissue, shirt, sock, bandanna, or anything else that is light.
Please Print out Page 3.
Mindful Moment
Yoga and Mindfulness: Scroll down to page 3. Follow along with the cards or print them out to make up your own yoga routine. Hold each yoga pose for at least 30 seconds. Play some soft, calm music if you want to.
Please Print Pages 9-12
Monday April 6, 2020
Warm Up
Scrabble Rush: Download or print directions, game board and pieces.
Fitness
Face Fitness: Choose from one of the three Face Fitness Charts. Play with someone in the family or a friend over the internet.
Focus
Move the Mat: Follow the directions on the page and play within whatever boundary you have.
OR
Box Ball: Use a Laundry Hamper, box or any other container. No balls, use rolled up socks or anything else that can be thrown.
Wednesday April 8, 2020
Warm Up
Flip Book PE: No tech? Too much tech? Create your own videos by building these four flip books. Print out the pages, cut and put together. Flip the book to learn the exercise and complete each exercise 10 times. Repeat this process 3 times for your warm up.
Fitness
Fitness Spelling Challenge: Use words from your classroom work to complete at least 5 minutes of fitness spelling.
Focus
Bounce Challenge: Build a course with at home objects and bounce your object all the way along the course.
Monday March 30, 2020
Warm Up
Six in a Row: Click on the link below to print out directions and game board for your warm up.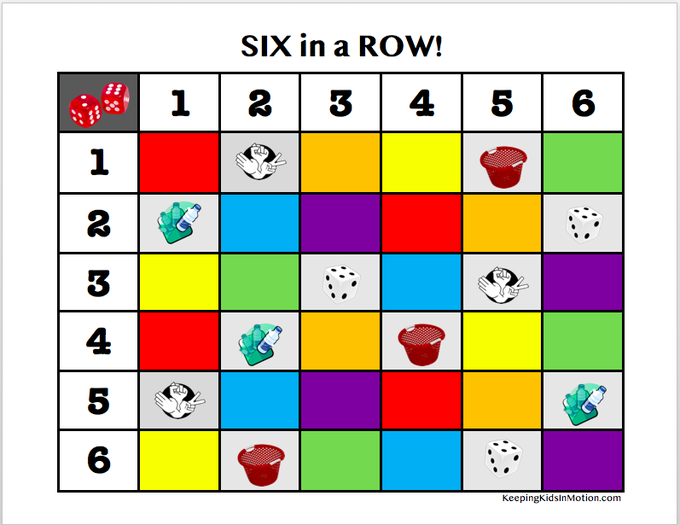 No dice make your own by printing out 2 of the templates below.
OR
CardioLand: Print out the directions and game pieces below to play the warm up game.
Fitness/Movement
Piece of Paper Fitness: Follow the video to level up your fitness.
OR
At Home Balance Challenges: Print out the challenges and Follow the directions. NO Toilet Paper or bean bags, use rolled up socks, a stuffed animal or anything else you have at home.
Focus
Add It Up: Use the underhand (like was used in last Monday's lesson "All Gone" or overhand throw to get the object past the lines in order to score points. Play with a partner and count the catches or on your own and count the points off of your throw.
OR
Two Ball Tosser: Use an Underhand or Overhand throw in order to complete the challenge below.
Wedesday April 1, 2020
Warm Up
Get It Done: Spread all sorts of home objects throughout the room. Start at one end of the room with a container to hold items. On go run out grab one item, but it in your container, go back to the starting line and repeat.
OR
Locomotor Fitness with Cones Download or print out directions below.
Fitness
Playing Card Fitness: Follow Along with the Video to complete the fitness activities.
OR
Cone Flip Fitness: Download or Print out the directions and scoring sheet to complete the fitness activity. Perform by self with two bottles or flip ables or play with a family member.
Focus
Tossing Challenge: Follow the video for directions in completing the toss challenge.
OR
Bean Bag Golf: download or print out directions for golf.
Monday March 23, 2020
Warm Up
Scrambled Eggs and Dead Bugs: Follow Along with the Video
OR
Locomotor Shapes: Click on the Link below the picture to print out directions.
OPEN-At-Home-08-LocomotorShapesDownload
Fitness/Movement
Fitness/Movement
Active Arcade Fitness: Follow Along with the Video
OR
Pac Man Fitness: Place pictures around the house. Complete exercises and move to the next Pac Man character. Click on the Link below the picture to print out exercise posters.
FOCUS
All Gone: Spread Household objects throughout the playing area. With a partner or by yourself see how many objects you can throw into the basket without missing or how quick you can get them all in.
OR
Chair Bowling: Choose your distance and location away from the chair or arch. Roll ball under the chair. Each time you make it under collect a playing card or object to keep track of points. Work as a group to collect as many points as you can or against an opponent to see who can earn the most points.
Wednesday March 25, 2020
Warm Up
Locomotor Go: Perform Locomotor skill to the music. When music stops lift up nearest plate to score points.
OR
Animal Movements: Follow along with the sequence of movements and exercises.
Fitness
Would You Rather Fitness #1: Follow Along with the video picking your exercise each time they switch.
OR
My Fitness Workout: Choose Three exercises from each group and place them in the boxes on the second page to form your own workout. Complete your workout. Change or use each day.
Focus
Go The Distance: Kick the ball or balloon across the space one time to get it past the blue line and pick a card.
OR
Soccer Croquet: Set up targets through your house. Take Turns seeing how many kicks it takes for you to get to each target.